Ludwig Leichhardt
Archivist
Joined

Sep 13, 2011
Messages

4,084
Reaction score

373
Location
Order:
Gruiformes.
Family:
Gruidae.
Other Names:
Australian Crane, Native Companion (formerly)
Distribution:
Australian native. Northern and Eastern Australia.
Habitat:
Freshwater marshlands, wetlands, lagoons, lakes, tidal pools, irrigated farmlands
and pastures.
Field Notes:
Tall crane to 1.3m high and a wingspan to 2,4m.
Head and throat are featherless, grey- green and coral red. Throat pouches appear darker and are covered in bristles.
Ears are covered by a patch of grey feathers. Body is covered in silver-grey feathers. Primary wing feathers are black. Legs and feet are blackish.
Calls are trumpeting and grating.
Brolgas are omnivorous using their strong beaks to extract tubers etc . They also eat grains, insects, small vertebrates.
A major component of their diet in Qld is Eleocharis dulcis (water chestnut)
The mating dance of the brolga is ritualised and iconic.
Source:
Wikipedia;
http://en.wikipedia.org/wiki/Brolga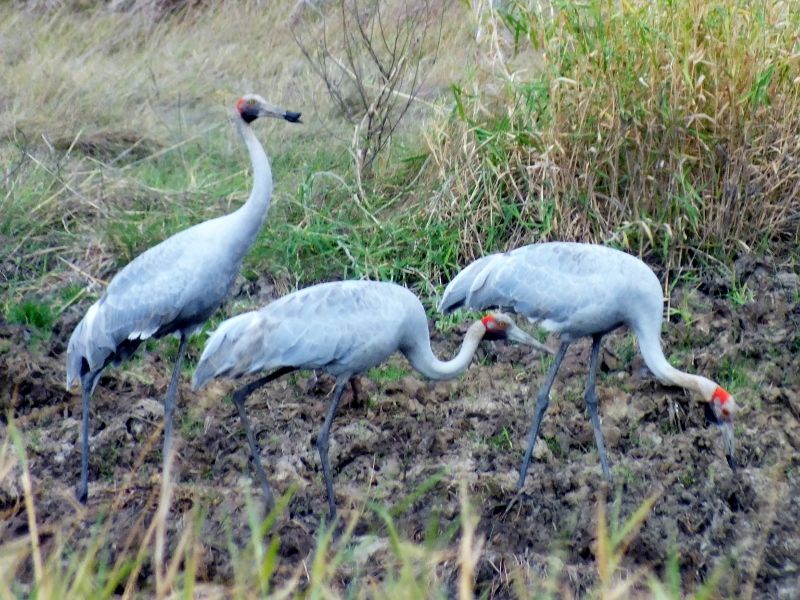 Townsville Common, Queensland, July 2013. Photo by Hairyman
Last edited: