Nest In the Hills
Staff member
Administrator
Joined

May 2, 2011
Messages

3,694
Reaction score

300
Location
Project:
Basic map reading and simple Navigation

Task:
Answer questions on basic map and compass navigation to aid learning.

Author/Instructor:
Blake

Tools:
Pen/pencil, Printout of this sheet.

Skills:
Map Reading, Map Symbols, Terrain Association, Route Planing, Grid Coordinates, Azmuth's, Intersection, Resection, Distance Measurement

Description:
To better understand the attributes of topographic maps and how to use the information to understand and plan routes. This quiz will also give you a chance to test your current knowledge levels and highlight any shortfalls which require further attention. It is not intended to teach you about orienteering or navigation.

Tip:
If you have no prior knowledge of orienteering or only a basic knowledge, it is recommended that you visit and read as many of the references listed below before attempting this quiz.

Tools Required:
Pen or pencil, Ruler

Materials:
(These will be useful, but are not essential) -A printout of this Project will be useful
-A piece of paper to make notes
-A "normal" protractor

Time needed:
60 Mins approx Subject: Orienteering/Navigation

Instructions:
Download the PDF below. This quiz is intended for people who have already done some study of navigation and orienteering . The majority of this quiz will require referring to the Training map on page 2. Please refer to this map when required. Only attempt the quiz after you have a reasonable understanding of the basics of map and compass navigation.
Results/Assessment:
1 point is given for every correct answer. 1 point is given for every correct answer. There is only one right answer although some questions are open to individual interpretation and are intended to test your thought processes. Please document and post your answers in your results thread. Once you have posted the answers a teacher or moderator will mark them and give you a score. Please be honest and try to complete the quiz without any help, this is not intended to be a competition, rather a way to understand what areas of navigation that need work.

References:
Online/Free:
http://bushcraftoz.com/forums/showthread.php?629-Navigation-Skills-MASSIVELY-PIC-HEAVY
Video/Free:
https://www.youtube.com/playlist?list=PL72D629668BA6D73A
Recommended Books:
http://books.google.com.au/books/about/Staying_Found.html?id=U6KDPYrnNH8C&redir_esc=y
https://play.google.com/store/search?q=be+expert+with+map+and+compass
Navigation Quiz:
Download File (650KB)
Bushcraft Training Map Example Image (High Res in download link above):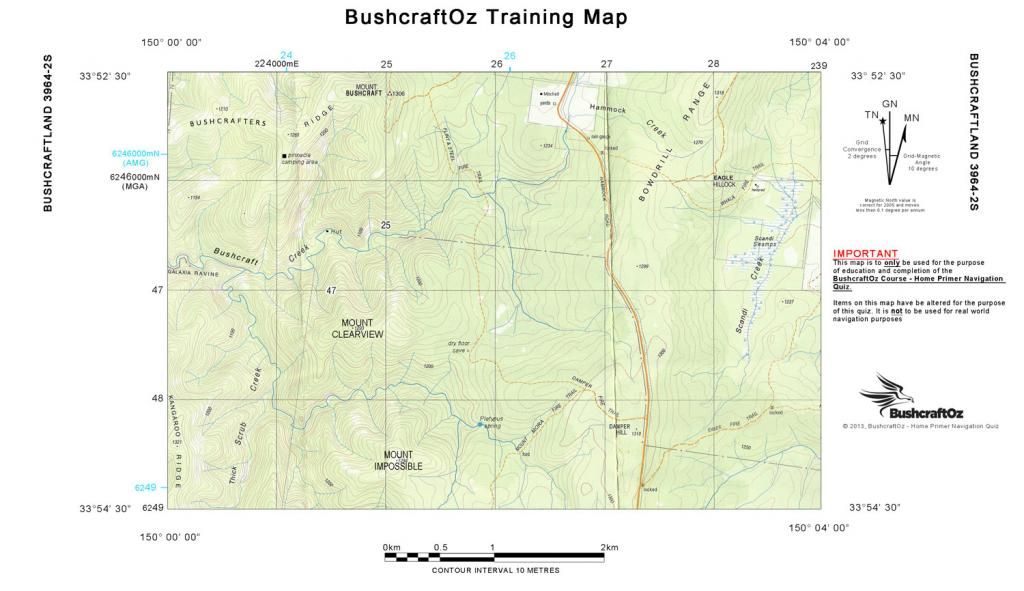 Last edited: